Rutland County Vietnam Veterans Memorial
Several years ago, a sculptor who was a Vietnam veteran began working on a monument for the community. John Reno died before he could complete the project, and the three-ton piece of marble, the basis for his work, disappeared.
"I had some spare time one day," John Bergeron, past president of VVA Chapter 1, remembers. "I played detective for a few hours and went knocking on doors and asking questions. Pretty soon I located the marble in a gravel pit in Fairhaven. It was off to one side and had been protected by the pit operator." The gravel pit operator agreed to load the marble on his flatbed and transport it to West Rutland where a sculptor had volunteered to complete the project. Rutland's nearly 700-square-foot memorial plaza contains benches and landscaping, with the marble sculpture as its centerpiece.
The effort to locate the names of the men and women was daunting, but with the assistance of the local newspaper and television, as well as word of mouth, it was quite successful. "I had wives come into my shop with their husbands' DD-214's," recalled Bergeron. "They said their husbands wouldn't do it, but they felt it was important for them to be recognized for their service."
The city donated the land, contractors donated their time and materials, and VVA Chapter 1 raised nearly $15,000 toward the cost.
The Memorial has the following signs located around it. Click on any thumbnail to view the sign in detail.
West Rutland Sculpture Don Ramey was photographed Oct. 11, 2017, as he neared completion of the replacement sculpture for the Rutland County Vietnam Veterans Memorial in Rutland.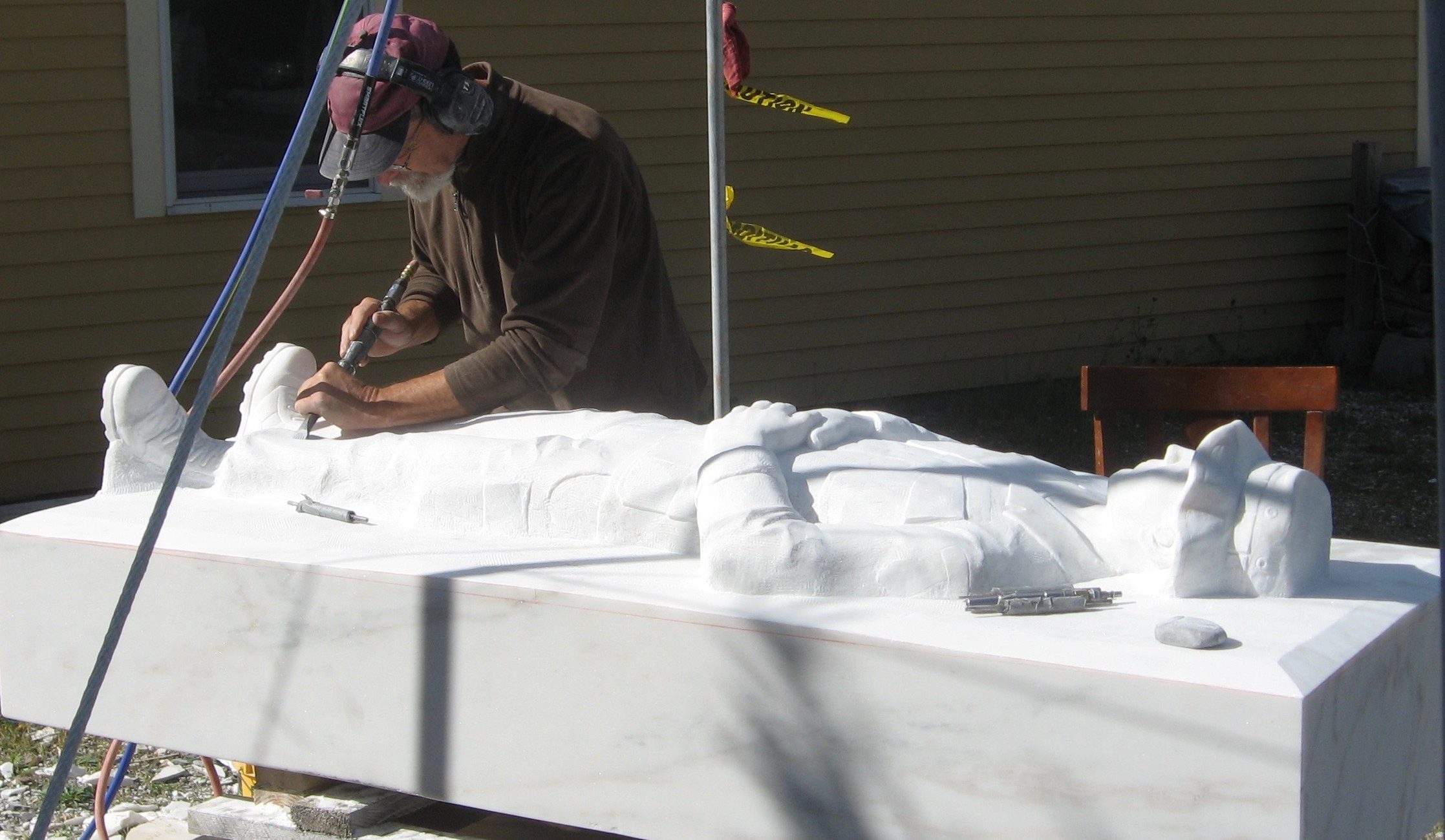 Scenes From the Memorial Rededication • November 11, 2017
Scenes From the Memorial Dedication • May 29, 2000
Location of the Rutland County Vietnam Veterans Memorial
S. Main and Washington Streets
Rutland, Vermont 05701
Did you serve in country during the Vietnam conflict?
Did you live in Rutland County at the time of your induction?
If so, you should contact VVA Chapter 1 to find out about
being added to the memorial.